About event registration
What you can learn in this topic
Tip If you're implementing paid registration, finish reading this topic, and then see Introduction to paid registration.
Event registration options
In Trumba® Connect, you can set up event registration to support:
Invitation-only events
Open invitation events, where anyone with access to your published calendar can sign up.
A combination, where you invite specific people and open up the event for general registration.
For both invitation-only and open events, you can do any of the following:
Limit the number of people who can attend.
Create waiting lists.
Set registration deadlines.
Allow invitees to bring others to the event.
Display the attendee list to everyone who responds.
Receive email messages each time someone registers.
Customize the registration success and confirmation message.
Send custom email messages to some or all registrants.
Gather the data you need with custom registration forms.
Summary of the invitation process
The event registration process includes the three major steps described below.
1. The event organizer sets up event registration
You can set up event registration for any event that you can edit (including repeating events). All of the actions you take related to setting up event registration are on the Event Registration tab in the form that opens when you add or edit an event.
2. People respond to your invitation or sign up to attend your event.
How someone responds depends upon whether or not you specifically invite them to attend.
People you invite receive an invitation email message. They click a link in the message to respond to the invitation.
People who sign up to attend an open event respond by clicking a Sign Up or Wait List button, if you display them with the event, or the Sign Up link in event details view.
Clicking the link in the email message or the Sign Up or Wait list button in the calendar opens the Trumba Event Actions window. This is where people accept or decline the event and provide other information.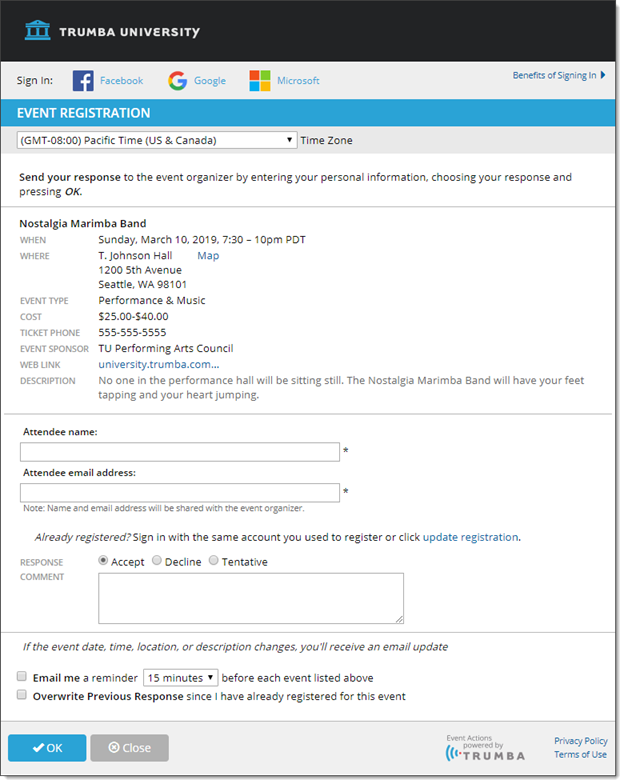 Tip After people respond, they can modify their original responses at any time by clicking the link in the original invitation email message or the Sign Up or Wait List button on your published calendar.
3. The event organizer tracks and manages the responses.
As people respond, their responses are recorded on the Trumba Connect Event Registration tab in the event form. You can open the form at any time to track and edit responses and add people who signed up to attend an open event to your Address Book.