Publisher Dashboard
If you're a Publisher account holder, you have access to a Publisher Dashboard where you can monitor the activity, for the past three months, of published calendars in your account.
You can use the Dashboard to download reports of calendar activity (in comma-separate values (.csv) format that you can open in the Microsoft® Office Excel or other spreadsheet programs), modify your event promotion strategies, and improve event awareness over time.
Important tips about the Publisher Dashboard
You may see calendars listed in the editing environment for which activity data is not available in the Dashboard. You see data only for calendars that you have permission to publish. Learn more about permissions.
At any given time, you can download Dashboard data for the current month and two previous months. With the beginning of a new month, data for the oldest month becomes unavailable.

For example, the following image shows the data download links as of February 24. When March begins, the December link will no longer be available.

Tip The best way to keep a running record of Dashboard data is to set a reminder and download the data each month.
What you can learn in this topic
In addition to a summary list of your account's published and editable calendars, the Publisher Dashboard includes detailed performance data for each published calendar. The rest of this topic describes the summary section and the calendar-specific performance data in more detail.
Published calendars summary
At the top of the Dashboard, you see a list of all of your published calendars with information about how many times each calendar has been viewed in the last month. Calendars are listed in descending order by number of views. For calendars with equal numbers of views, those with more future events are listed first.

Following the published calendars list, you see a list of calendars you can edit that are not published or mixed in to a published calendar. Clicking a calendar's Edit Events link returns you to the editing environment with that calendar active.
You also see a Download spud views section where you can click a link to download a spud views report. The report is a file in .csv format that you can open in spreadsheet programs.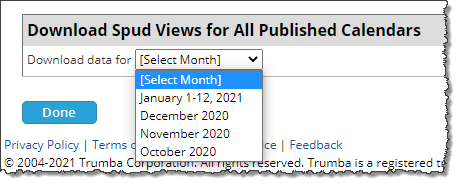 In the following spud views report, on January 2, the Seminars calendar Classic Table view was viewed 1135 times. Visitors clicked events in the main calendar 390 times to view event details.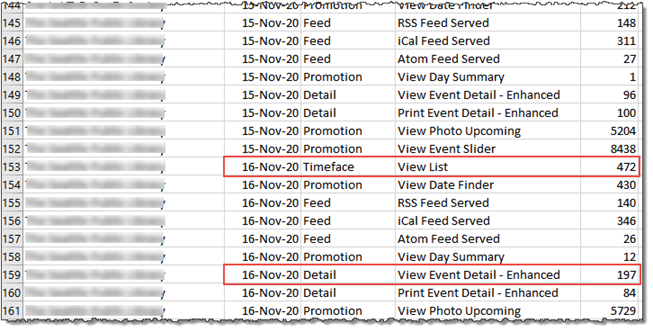 Tip Reminder: Trumba stores only three months' worth of view data.
Calendar description
Following the high-level list of published calendars you find a detailed section devoted to each individual published calendar. The first thing you see in each calendar section is a description of the calendar's settings.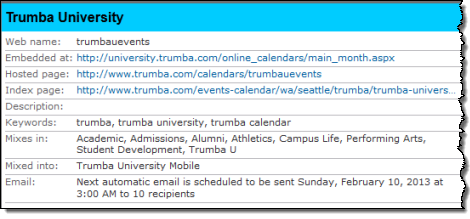 Each calendar description is unique but all descriptions include at least some of the following information:
Web name

The web name you assigned to the calendar when you first published it.

Embedded at

The URL of the page on your website where you embedded the calendar.

Tip If this link is incorrect, you can correct it. In the title bar of the calendar information form, locate the Other actions drop-down list. Select Publishing Control Panel, click the Publish Settings tab, and then click Edit Publish Settings. On the Edit Publish Settings page, under Publish Settings, for Calendar address, type the correct URL for the page on your site in which this calendar is embedded.

Hosted page

The URL on the Trumba Connect website where the calendar is hosted.

Index page

The URL for an index page that Trumba Connect creates automatically each time you publish a calendar. This index page is optimized for search engines.

Note You won't see this link if you have set your calendar to be unsearchable.

Description

If you typed a description for your calendar when you created it, that information appears here. Providing a strong description makes it more likely that your calendar will show up in search engine results.

Keywords

If you typed keywords related to your calendar when you created it, those keywords appear here. Providing strong keywords makes it more likely that your calendar will show up in search engine results.

Mixes in

The calendars listed here are calendars that you mixed in to this calendar when you published it.

Calendars with time zone settings different from this calendar will be highlighted.

Mixed into

If this calendar is mixed into other published calendars, those other calendars are listed here. In the example above, the calendar is mixed in to a published mobile view.

Email

If you set up a scheduled calendar email for the calendar, information about when the next email will be sent appears here. In the example above, the next email will be sent on Sunday, February 10 to 10 recipients.

Tip If you want to change the scheduled email settings, at the top of the calendar section, in the Other Actions list, choose Email Options.
Spud views
To the right of the calendar description, you see a Spud views chart.
The chart, which covers the last 30 or so days, lists spuds viewed, feeds served, calendar emails sent, and actions taken in descending order by number.
The following examples of spud view data from two different published calendars illustrate that each Spud views chart is unique. The information you see in your charts will depend upon the specific set of calendar view, promotion, control, event detail, and email spuds you configure for each published calendar.
Read the descriptions beneath the example charts for tips on how to interpret your own chart data.
View Map, View Classic Table, View Classic Month, View Classic Week, View List

The default view for this published calendar is Map view. A View Chooser control spud above the calendar lets visitors switch to four other views (Classic Table, Classic Month, Classic Week, List).
Learn from the data Most visitors stick with the default view. Those who switch choose the second and third view options listed. Consider not offering the views no one is choosing or, if you want to promote a view, change its order in the View Chooser spud.

View Event Detail - Enhanced, View Event Detail Popup, Print Event Detail - Enhanced

This calendar's Publisher selected the Enhanced event detail view and enabled detail view popups for at least some calendar views.
Learn from the data A significant proportion of visitors want to learn more about the events. Almost 12,000 visitors viewed event details. As many as 87 visitors even printed an event detail view.

RSS Feed Served, iCal Feed Served, Atom Feed Served

To stay current with your calendar's events, visitors can subscribe to a feed. According to this chart, approximately 1,700 feeds were served during the previous month, which suggests that a significant number of visitors are interested in staying current with this calendar's events.
Note Because feeds served can indicate actions besides visitor subscriptions, the number of feeds served does not necessarily correspond to the number of unique visitors who set up feeds.

For example, if you publish your events in a mobile application, the app developer uses one of the data feeds to display events in the app. A feed is then served each time a visitor accesses the mobile app.

View Upcoming Events, View Date Finder, View Classic Table

Calendar Mail Sent, Blocked, Subscribed

A lot of people are interested in staying current with this calendar's events. The calendar's monthly digest email message has 544 subscribers. Eighteen new subscribers added themselves to the calendar's distribution list during the previous month.
Calendar Mail Blocked indicates that the calendar email message could not be delivered to 36 of the email addresses on the calendar's distribution list. Delivery failure results when an address is no longer valid or an Internet service provider treats the Trumba digest email as spam. In your distribution list, invalid email addresses are highlighted in red and you can remove them.

Tips

To export the spud views data for the current or previous two months, click the appropriate link at the bottom of the table. The data is exported in comma separated values (.csv) format, and can be opened in Microsoft® Office Excel and other spreadsheet programs.

Tip The report is organized by date. At any time, only three months' worth of spud views data is available. You have to download spud views data for each individual calendar you want to track. In the report, Timeface means main calendar view.

If you want to act on any of the settings or data you find in the calendar description or Spud views chart, you can click or select one of the actions you see above the chart.
Calendar, promotion spud, and event detail views
In this section, bar charts make it easy for you to compare, on a day-to-day basis, four weeks' worth of main calendar spud, promotion spud, and event detail views.
The way the charts are presented makes it easy to tie peaks and valleys of activity to specific event offerings. You can also monitor how effective your promotion spuds are at driving traffic to your event calendar.
Tip The bar chart reports begin on the day you designated as the first day of the week in the calendar's settings.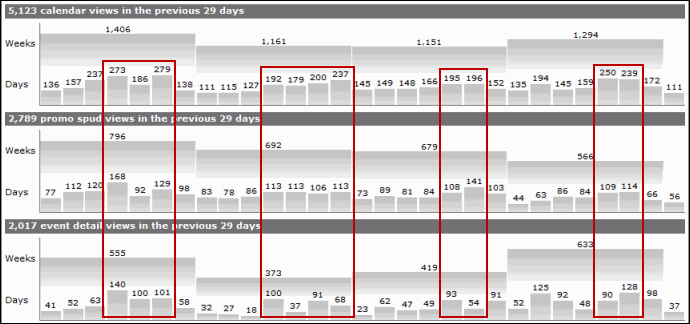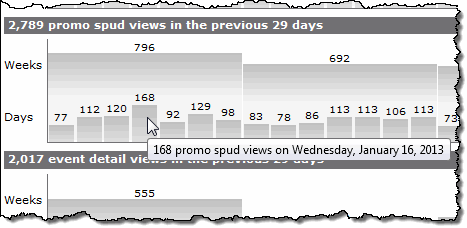 Most viewed future events
This section lists the eight to ten future events on your published calendar for which the event details page was viewed most frequently. Clicking the event description (blurred in the image) takes you to the Event Information form where you can see or edit the event fields.
For each event, you can also see how many times visitors have added the event to their personal calendars, forwarded the events to friends, and set event reminders.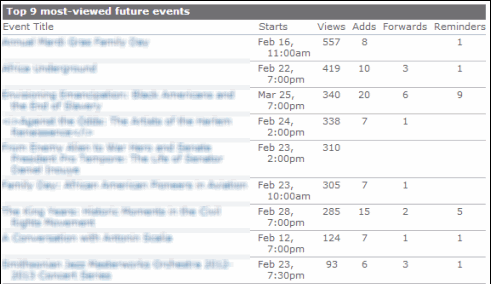 Tip At the bottom right, click a month link to download an event report. The report, which includes all viewed events, is organized by date. For each event, it lists the number of views as well as the number of times visitors added the event to their calendars, forwarded it to friends, or set up a reminder.

Event action activity
From the event actions chart, you get a sense for how and how often visitors interact with your events.
For example, the following chart shows that the action visitors most commonly take is to add events to their personal calendars. Setting event reminders and emailing themselves or downloading event information come next.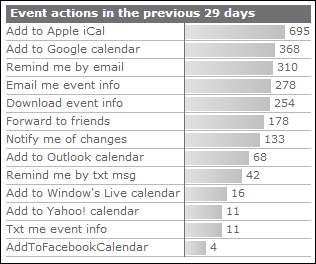 Future events by month
This summary of future events shows you at a glance how many events you have on the calendar for the current month and 12 months into the future.
Use the chart to