Track updates in the editing environment
If you share calendars with other account holders and/or if other account holders share calendars with you, you can stay informed about changes those account holders are making through notification markers (also known as indicators, symbols, icons, or flags).
For example, as a publisher, you can see when editors add new events to a shared calendar. Or, as an editor, you can track which information about an event (location, title, description, date/time) a publisher updates.
You have three options for tracking calendar updates:
Recent Activity panel
The Recent Activity panel appears at the bottom of a calendar. The panel lists events that have been recently added or revised.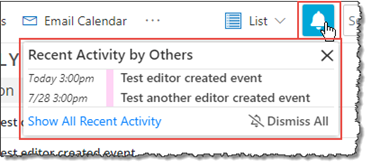 Notification markers indicate which events are new (asterisks) and which fields in revised events have been updated (updated fields are underlined).
Understanding and managing the Recent Activity panel
The panel lists updates to the currently displayed calendar and to any calendars mixed in to the displayed calendar.

Tip In the editing environment, you mix in a calendar by selecting the check box to the left of the calendar's name. For example, in the following image, Product B - Level 1, 2, and 3 calendars are mixed in to the displayed calendar, Product B seminars.


If you want to list updates only for the displayed calendar, clear all other calendars' check boxes.

The panel lists up to 10 updates. Click Details to open the Recent Activity page where you can see the full list of updates.

To clear listed updates from the Recent Activity panel, click Dismiss. To clear all updates, click Details to open the Recent Activity page, and then click Dismiss All.
Notification markers
While the Recent Activity panel provides a convenient list of recent updates, you can also track recent additions and revisions using the notification markers that show up in shared calendars.
Tip Notification markers you see in the editing environment are the same markers calendar visitors see if you decide to turn on a published calendar's update notifications. Learn more.
Notification markers in the following shared calendar (shown in Week view) indicate that editors made these changes:
July 13 (underlined start/end time and clock icon): Changed event time.
July 15 (exclamation point icon and underlined title): Revised event title and description.
July 18 (asterisk): Added a new event.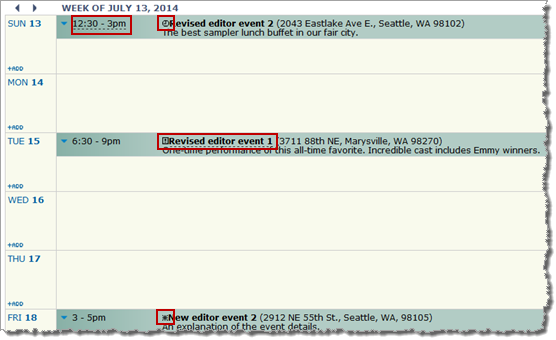 Tip You can hover over the exclamation point (

) or clock (

) icon to open a tool tip that tells you who updated the event and when.
Calendar views in the editing environment display notification markers differently. If you want to rely on notification markers to track changes made by other account holders, display a shared calendar in one of the views outlined in red:

Description update tooltips
If another account holder with whom you share a calendar updates the description for an event, when you hover over the description, a tooltip pops up that provides the date and time when the update occurred.