Customize event actions
Note Read this topic if your Trumba® customer account was created before Thursday, August 13, 2015 and you have not enabled the New Event Actions.
After you publish a calendar, you can customize how event actions work and how the Event Actions page looks.
Customize how event actions work
You can customize Event Actions pages in four ways:
Event information display and Google apps options
You set your event actions and Google apps preferences on the Event Actions global settings page.
To set the global event action page options
In the Publishing Control Panel, select Publish Settings.
In the blue Publish Settings header, click Edit EA Settings.
In the Edit Settings for EA Event List form, select the field, date/time and image options you want.

Tip You can customize the built-in field labels that visitors see in event action pages. In the Field Options section of the form, for Location label, Notes label, and Link label, replace the default text with your custom text.

To let visitors add events to a Google Apps calendar, for Enable Google Apps, select Yes.

If your organization has a Google Apps domain and most visitors will add events to calendars at that domain, for Default Google Apps Domain, type the domain name. Visitors can always overwrite the default if they want to use a different domain.

If you set up event registration for some events and you make it optional for registrants to provide an email address, you can control the message registrants see that describes the implications of registering without an email address.

In the Registration Messaging section, replace the default Email message optional text with the text you prefer.

Click OK.
Control visitors' event actions and add-to-my-calendar options
The following image shows the default event actions and add-to-my-calendar options available to your calendar visitors.
On the top left, you see the complete list of the event actions.
In the bottom half of the event display on the right, you see a complete list of the calendars to which visitors can add events.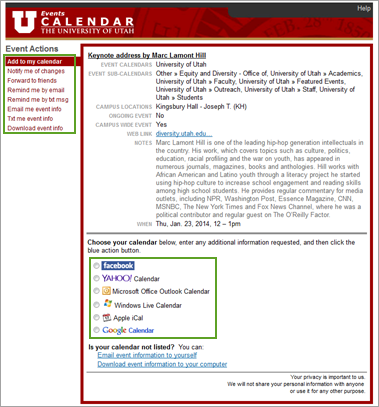 To meet your organization's specific needs, you can limit the event actions and calendar types that are available. For customization assistance, contact your Trumba Support representative.
Brand Event Actions pages with custom images and colors
Note If your Trumba® customer account was created after Thursday, August 13, 2015 or you have enabled the New Event Actions, the following instructions don't apply. See Customize the Event Actions web app to learn how to brand the event actions web app and pages.
You can add banners, logos, and custom colors to Events Actions pages to brand them for your organization.
Note Get more information about branded Event Actions pages by contacting your Trumba Sales representative.
Event Actions pages are responsive to the size of the browser window in which they're viewed. This means that the Event Actions page that mobile phone users see is laid out differently from the Event Actions page that tablet and computer users see.
If you decide to brand your event action pages, provide Trumba with two different images: a banner or large image for the larger page layout and a smaller image, such as a logo, for the mobile phone page layout.
Tip Maximum width for the banner image is 735 pixels. Maximum width for the mobile image is 320 pixels. Recommended height for both images is between 50 and 100 pixels.
The page automatically builds its color scheme from the colors in the images you provide.