Visitors and the CASHnet gateway
This topic describes the process that visitors complete to register for your paid events if you set up a payment gateway through CASHnet®.
In the CASHnet Checkout Store you set up, you can specify which types of payments you accept. The two payment types that work with Trumba are:
Credit card payments.
ACH (Automated Clearing House)/Electronic check payments that take money directly from registrants' checking or saving accounts.
Note The images here are based on a calendar that uses the Classic Table view and open sign-up events. The process is the same for all views; however, the appearance varies slightly for each.
Part 1: Sign up
On the main calendar, visitors find events and click Sign Up. (On some views, you open the event details to get access to the Sign Up link.)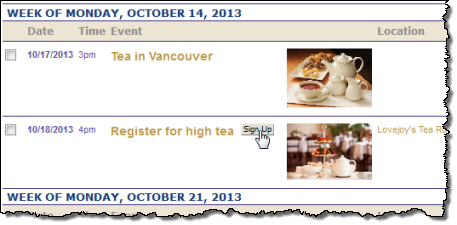 Part 2: Submit payment
Visitors type their names and email addresses, and then click Checkout.

Your customized CASHnet Store opens. If you support both credit card and ACH payments, visitors select the way they want to pay, and then click Continue Checkout.
Visitors are prompted to provide their credit card or bank account information. When they finish, they click Continue Checkout.
Visitors see a confirmation page with an order summary. If they're satisfied with the order, they click Submit Order.
Part 3: Receive confirmation
Visitors return to Trumba event actions where they see a confirmation page including a payment transaction number.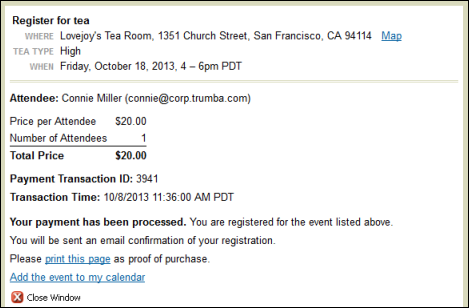 Visitors receive an email message from CASHnet that includes the transaction number and other registration information.
Visitors also receive an email from your Trumba calendar that includes the transaction number, price, and a option for changing their registration.

Tip The email does not include an option for cancelling registration because CASHnet does not support refunds.