List by Month calendar view
Use when your goal is to
Provide a compact events calendar in a small amount of space.

Tip It's often best to use List by Month view by itself, that is, without giving visitors the option of switching between calendar views. All calendar views share a single event detail view and the event detail view opens in the same space the calendar view occupies. If you customize the event detail view to look good in a narrow List by Month view space, it won't look good in wider spaces occupied by more typical calendar views. Learn more about event detail views, main calendar views and letting visitors switch between views.
Don't use when your goal is to
Find a calendar view that looks good on mobile devices.

Instead, use the Mobile Table calendar view.

You have too few events for a full calendar but still want to promote them.

Instead, use a promotion spud.

Group events by any time period besides month.
Present lots of event details in calendar view.
Include images with events.
Present event information in a traditional calendar format.
Description Events are grouped by month and then date. You can set the number of events to list per page and which fields to display.
Example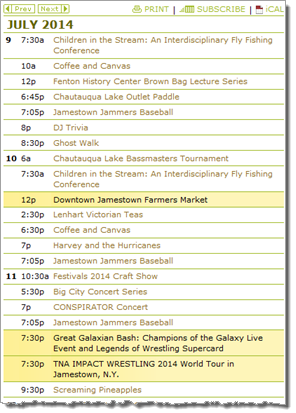 Settings to notice