Time zones in action: A travel example
To illustrate the way time zones work in Trumba® Connect, we've used an example that involves taking a trip. Exactly the same principles apply if you're working with calendars for company branch offices in different time zones or other similar situations.
You can learn:
Where you live and where you're going
Let's say you live in New Mexico. Your account time zone and the time zone for your personal calendar are set for (GMT -07:00) Mountain Time.
Next fall, you're planning a major month-long vacation to Turkey. You decide to create a Turkey calendar to help with your trip planning. As you make arrangements, you can add events to the Turkey calendar that reflect the time it actually will be when you're abroad. You can also capture useful information about the events, such as a reservation number or the name of a contact, in the event description.
Create the vacation calendar
When you create the Turkey calendar, you set the calendar's time zone for (GMT +02:00) Athens, Beirut, Istanbul, Minsk, and then you begin adding events. In Multi-Week view, your calendar might look something like this:

The event times reflect the time it will be in Turkey when you are actually on your vacation.
Tip You can share the Turkey calendar with your travel companion (if that person is also a Trumba Connect subscriber) so you can both view and add travel events.
Mix your personal calendar into the vacation calendar
As your departure time nears, you might want to see just how long your flight to Ankara will be. You can easily figure it out by mixing your personal calendar into the Turkey calendar.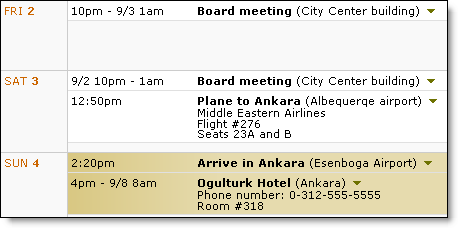 As this calendar in Week view shows, the events from the mixed-in personal calendar take on the time zone (GMT +02:00 instead of GMT -07:00) of the Turkey calendar. Regular old events, such as your Board meeting, look strange (the Board meeting starts at 10 PM on Friday and lasts until 1 AM on Saturday). But you can see at a glance exactly how many hours the flight to Ankara will take.
Publish the vacation calendar
Just before you leave for your trip, you publish the vacation calendar to the Web so your family members, friends, and house sitter can keep track of where you are when.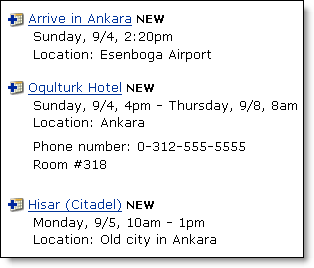 Events on the published calendar reflect the time it is in Turkey. If viewers of the calendar want to temporarily change the time zone so they can see what you're up to in local time, they can use the Time zone control at the bottom of the calendar.