3 Columns calendar view
Use when your goal is to
Display the event description with the event title.

Tip You can set a maximum character length for the Description field in the calendar. If the content gets truncated, the entire Description field is always available in event detail view.

Display the calendar name with the event title.

Tip This is particularly useful when you publish a calendar with other calendars mixed in and you want to identify the calendars to which events belong.

Show both start and end times for each event.
Present event information in a compact yet informative format.
Don't use when your goal is to
Control which event fields display in the calendar, the order in which they appear, and how they are labeled.
Subgroup events by start time, time block, or location.
Feature specific events using unique formatting.
Description Events are displayed in a 3-column (description, date/time, location) table format. Each event is a row in the table. You can choose to display the description and/or calendar name under the event title.
Examples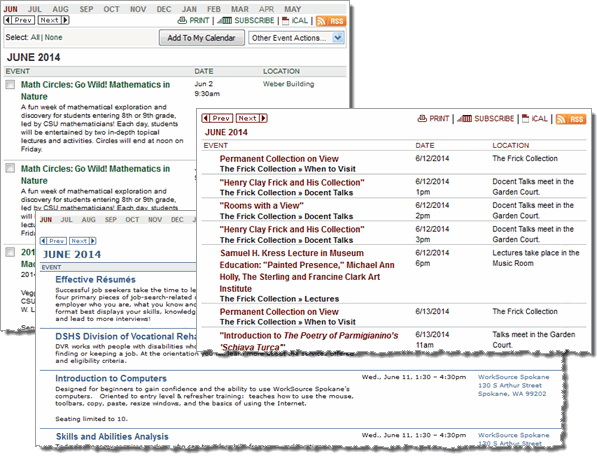 Settings to notice
Top calendar
Middle calendar
Bottom calendar

Description under the event title
Start time under the event date

Calendar name under the event title
Start time under the event date

Description under the event title
Start and end times on the same line as the event date