Classic Table calendar view
Use when your goal is to
Control which event fields display in the calendar, the order in which they appear, and how they are labeled.
Include images with event listings.
Group events using custom time blocks (such as event types or academic terms).
Feature specific events by adding unique formatting.
Present event information in a compact format.
Don't use when your goal is to
Description Events are presented in table format. Each event is a row in the table and each field you display is a column. You can customize the column headings and specify how many events to display per page (for example, a year's or month's worth or a specific number).
Examples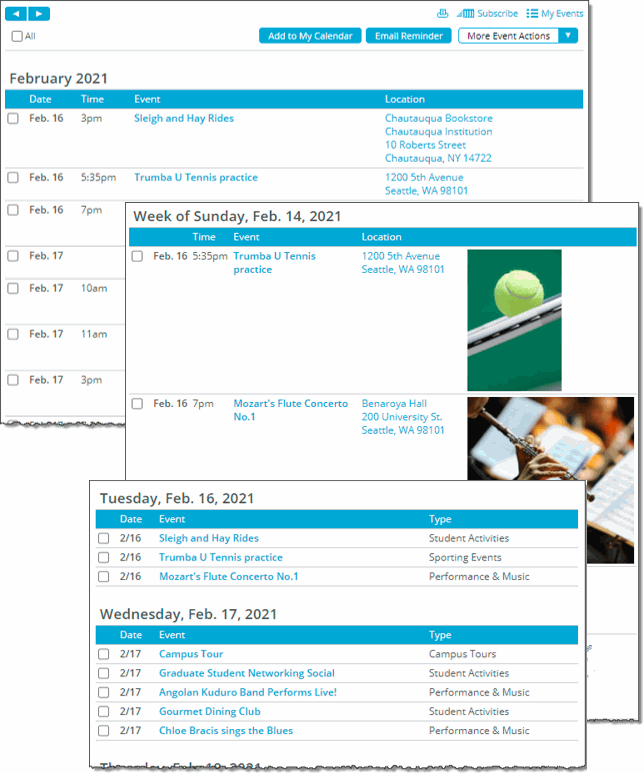 Settings to notice
Top calendar
Middle calendar
Bottom calendar

Events grouped by month
Date, Time, Event, and Location fields displayed

Events grouped by week
Date, Time, Event, Location, and Image fields displayed
Date and Image fields unlabeled

Events grouped by day
Date, Event, and Event Type fields displayed
Event Type field label customized to Type
Classic Table view - Tips on grouping
You can use the group by feature to enhance the display of your calendar.
To simplify the group by month display, you can use the Date/Time Span field to combine both the date and the time in one column. The default label for the column is When, as in this example:

If there are a lot of events each day, it can be hard to follow when grouping by month. Try grouping by day instead, and then remove the start date to provide a cleaner view, for example:

Depending on the number of events, grouping by week could work best, but in this case, you'd need to keep the start date. For example:
Classic Table view - Event descriptions with notes
Table view is typically used to present events in a compact format. However, you can make the view more informative by including event descriptions below the event titles.
When you customize Classic Table view settings, on the Events tab(s), in the Inline Description section, you can set Display inline description to Yes to display the Description field contents below the event titles, such as in the following example: