Calendar subscriptions
Visitors who want to stay updated about new events can subscribe to your published calendars.
Unless the publisher with administrative privileges who set up your organization's calendars made subscriptions unavailable, visitors can subscribe by clicking a Subscribe link in the Calendar Actions panel that sits above your calendars on the right.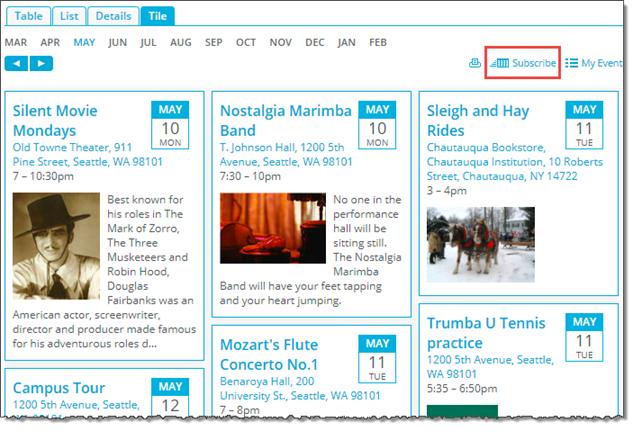 Clicking the Subscribe link opens the Subscribe page where visitors are presented with a list of subscription options and a Subscribe button.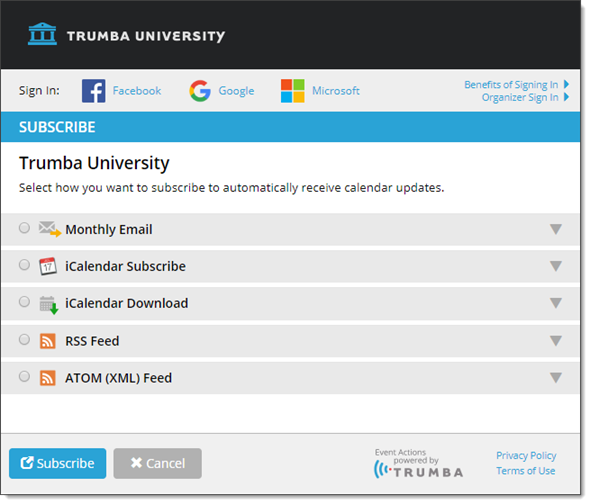 Each selected option includes a brief description. By clicking More, visitors have access to a more detailed description as well as help about how to subscribe.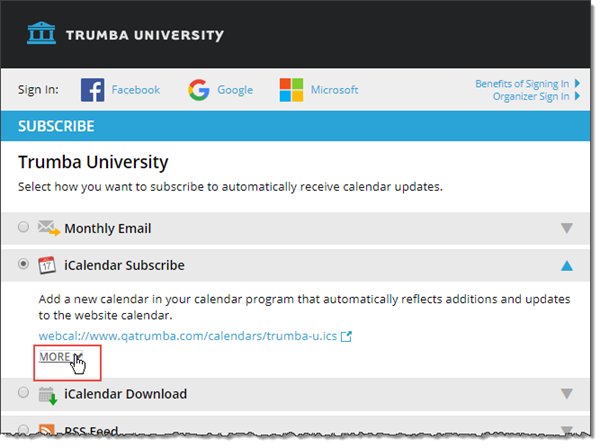 Tips
In the Subscribe window, visitors can select only one subscription method at a time. However, they can set up multiple subscriptions by re-opening the window for each method they want to use.
If your organization supports visitor accounts, visitors can sign in before they subscribe. Those who do sign in have the option of managing their subscriptions from the My Calendars page in the Event Actions web app. Learn more.
Subscription options explained
Click the links to familiarize yourself with each of the ways visitors can subscribe.
Calendar emails
When you publish a calendar, by default, Trumba Connect creates a weekly digest email and allows visitors to add themselves to your distribution list. This enables you to increase your email audience when you don't know the addresses of everyone who is viewing your calendar.
Visitors who subscribe to your email are notified that their email address is shared with you. (Trumba doesn't share email addresses with anyone.)
You can disable this option, edit your distribution list, or edit your calendar email settings at any time.
iCalendar feeds and files
In the subscribe window, visitors are given two iCalendar options. They can subscribe to an iCalendar feed or download an iCalendar file.
iCalendar subscribe
When visitors subscribe to an iCalendar feed, their browsers encounter a webcal URL. In most cases, the browser automatically hands the iCalendar feed over to a calendar program. If the calendar program supports the iCalendar format, it downloads the event information into a new or existing calendar and establishes a connection with the online calendar so new events will automatically be passed on.
For more details about iCalendar subscriptions with specific calendars or devices, see Subscribe to iCalendar feed.
iCalendar download
Downloading an iCalendar (.ics) file is not, technically, a subscription option. Depending upon which calendar programs and web browsers visitors use and what their browser security settings are, their calendar programs may automatically open the .ics file. Otherwise, they can save the file to their computers and import it into their calendar programs.
When visitors download the file, they take a current snapshot of events starting from the current day. No connection is established with the online calendar. Events added to the online calendar after the download will not be added to the calendar on the visitors' computers.
RSS and Atom feeds
Visitors can subscribe to feeds of your events in either RSS or Atom (XML) format.
Recent versions of common web browsers display feeds right in the browser. After the feed displays, visitors can decide whether or not to subscribe.
Visitors who use feed readers can find the subscription URL in the browser's address bar. The URLs look like this:
RSS

https://www.trumba.com/calendars/calendarwebname.rss

Atom

https://www.trumba.com/calendars/calendarwebname.xml
What are RSS and Atom feeds?
RSS and Atom are types of XML code used to feed ever-changing news or other data to you. You view and subscribe to feeds from a program called an RSS or news reader or aggregator. Many readers are available free on the web. In your reader, you can collect the feeds from the sites you're interested in, so you can keep up-to-date without having to remember where the sites are or navigate all over the Web to get the information.
All Trumba Connect published calendars include RSS and Atom feeds that anyone who views the calendar can subscribe to. Many feed readers treat the two feeds the same. However, Atom feeds use XML namespaces, which help in developing applications with web syndication feeds. For a brief overview of the differences, try the Atom Compared to RSS 2.0 section of the Atom page in the Wikipedia.