Conference Schedule publishing template
Use when
You want to show the events for just one day on each page of the published calendar (probably because each day contains many events).
You want to group events by location (for example, all events that take place in the same room or building) or description (for example, all events of the same type).
Don't use when
You want to show the events for several days, weeks, or months on one page.
You want detailed event notes to display in the published calendar.
You want to list events in descending order, with latest events displayed first.
You want to present event information in a traditional calendar format.
Description Each page of the published calendar displays the events that take place on just one day. When you publish, you can choose to include all events, all future events, or only events for a specific date range, and you can group events by location or description.
Example Environmental Network Association Conference Schedule.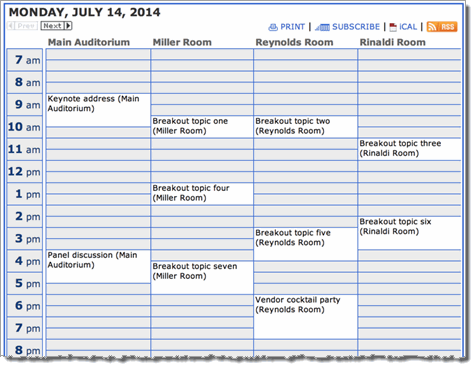 Points to notice about the example:
Viewers can move between days by clicking the day name at the top calendar.
Events are grouped by location.
To see notes associated with an event, viewers click the event description.