Publish calendars
When you want to make a Trumba® calendar available to the public, you can publish it to the Web. After you publish it, you can:
Embed calendar spuds into your own website, giving visitors all the benefits of your active calendar right on your site.
Provide your audiences with links to your hosted calendar. Your published calendar is hosted on a Trumba server and given a unique Web address (URL). The hosted calendar site is available to anyone who has access to the Web.
Whether on the hosted page or your site, visitors to your calendar can subscribe to it or take other actions on events.
What you'll learn in this topic
Simple steps to publish your calendar into your website
To publish your calendar and put it into your website, you complete two separate steps.
| | |
| --- | --- |
| 1 | When you're done entering events, go to the calendar you want to publish, click Publish, select a default view, select the calendars you want to mix in, and specify other publishing settings. |
| | Each publishing setting has a description of what it's for, along with additional help and tips that you can open by clicking the green Help buttons (). |
| 2 | Paste code that Trumba Connect generates for calendar spuds into your own web pages. Visitors get the benefits of a Trumba Connect active calendar without leaving your site. |
| | |
What are calendar views and spuds
Views and spuds are terms you'll see referred to a lot in the context of publishing Trumba calendars.
Views
When you publish your calendar, you select a default view. The view sets the calendar layout and other attributes that determine how events are presented on the main calendar. For example, for some views, you can change the number of events that appear on a page and how they're grouped within that page. You can also allow visitors to select multiple events to take action on, or disable update markers that appear when you make changes to your events. Each view has its own customization settings.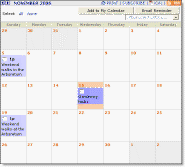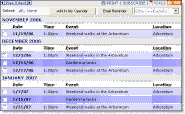 After you publish your calendar, Trumba Connect makes your calendar available in a few standard views in addition to your default view. You can add, remove, and customize views in the Publishing Control Panel.
Spuds
For every calendar you publish, Trumba Connect creates calendar spuds, each of which presents your calendar data in a different way. Spuds behave like portals on your web pages, which draw calendar information directly from the Trumba server on which your calendar is hosted. Because they draw information from Trumba Connect, spuds on your site immediately show updates you make to your calendar in Trumba Connect.
Some examples of spuds are:
Your calendar itself (main calendar spud), where people go to find details about and take actions on your events.
A list of your next several events, which serves to direct people to your main calendar.
A list of available views of your main calendar, from which visitors can pick the one they want.
A tool to search for events that contain specified keywords or to filter events through event fields.

And more…
In the Publishing Control Panel that appears after you publish your calendar, you can see the spuds that are available in each spud category on the various tabs. Tell me more about the spud categories.
Preview your calendar with the hosted view
If you're not ready to embed your spuds and you want to preview your published calendar, you can take advantage of the hosted view.
The hosted view is a view of your published calendar that is hosted on the Trumba servers. Each hosted view has its own unique URL.
Hosted view and the mobile experience
The hosted view displays a selection of control spuds to the left of the calendar.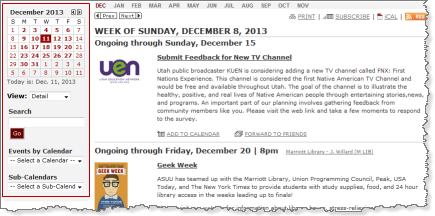 By default, in narrow browser windows (less than 735 pixels wide) and on mobile devices, the hosted view is set to automatically hide the control spuds. To display the spuds in narrower environments, you can click Show Controls above the calendar.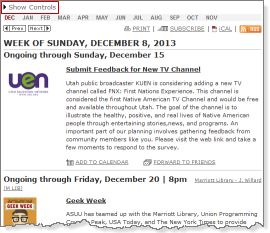 Tip If you set your calendar to automatically detect mobile, when you preview the hosted view on a mobile device, you see a mobile table view specifically configured for the narrower mobile environment. Learn more.
To preview a published calendar's hosted view and find the view's URL
In the editing environment, display the published calendar. Click Publish.
In the Publishing Control Panel, click the Hosted View tab.
To preview the hosted view, in the Hosted View box, click Preview.
To copy the URL, on the right side of the Hosted View box, find the hosted page URL. It looks something like this:

<a target="_blank" href="http://www.trumba.com/calendars/

name

">View My Calendar</a>

where name is replaced with the web name of your calendar.
Customize your calendar to match your website design
After you place calendar spuds into your site using the default settings, you might see that the design of the calendar doesn't exactly match the design of your site. In that case, you can take advantage of the flexibility Trumba Connect provides in customizing the views you provide of your main calendar, as well as styles and other settings for any of the spuds you want to use.
Select or modify publishing settings for your main calendar
In the Edit Publish Settings page, you select a default calendar view, the calendar name, mix-ins, and other settings that apply to the main calendar behavior. You can change these settings any time.
In your Trumba account, display the calendar and click the Publish button that appears above it.

If the Publishing Control Panel page appears, on the Publish Settings tab, click Edit Publish Settings.
In the Edit Publish Settings page, select the new settings you want. Use the list of help topics below if you want more information about a particular setting.
When you're finished with the settings, click OK to proceed to the view and spud customization settings. (If you are publishing for the first time, click Publish to continue.)
Help for selecting publishing settings
The topics listed here provide more information for selecing settings on the Edit Publish Settings page.
Default view
Publishing settings
Mix-in events: Mix other calendars into your published calendar
Search
Event filters: Filter spuds
Email settings: Enable or disable the visitors' option to subscribe to your event email
Unpublish calendars
If your published calendar is no longer relevant, or you change your mind about making it available on the Web, you can unpublish it to remove it from the Web and remove it from your website.
Open your web pages that contain the Trumba spud code so that you can edit them, remove the spud code from the pages, and then save and close the files.
In the Trumba editing environment, display the calendar you published and click Publish.
Toward the bottom of the Publishing Control Panel, click Unpublish.

Note If you unpublish a calendar but do not remove spud code from your own web pages, the spud code will display a Calendar not available error message on your pages.
Searchable information from your unpublished calendar
If your calendar was indexed by a search engine while it was published, even though the calendar no longer exists on the Web, its name, description, URL, and other searchable event information may still be listed in relevant search results until the search engine re-indexes the Trumba Connect public calendar site.