Trumba Connect Frequently Asked Questions
Trumba Support frequently receives the following questions. If you have a question that isn't answered here, try the See Also links on the left.
---
Event setup
Images in events and objects
Spuds and publishing
Calendar and event email
Event actions and event details
Accounts and permissions
---
---
I sent reminder messages to people I invited to my event. Why didn't their messages include Register buttons?
When it comes to sending event reminders, you have two options. The option you choose determines whether or not the reminder message includes a Register button.
While, for many events, you'll end up using one option or the other, it doesn't have to be either/or. There are cases where you might want to take advantage of both reminder options for the same event.
The important thing is to be aware that you have two options and what the differences are between them.
You set up both reminder options in the editing environment using tabs on the Add/Edit Event form that you open by clicking Add Event or the description of an event you already created.
Option 1: Event Registration tab reminders If you set up event registration and invite people to register for an event, you can send a reminder from this tab that reaches only the invitees who have not yet responded to your invitation. This reminder message includes a Register button.

Tip You can also create custom reminder messages from the Event Registration tab and send them only to selected registrants. Learn more.

Option 2: Event Email tab reminders On this tab, you can set up general event announcements and reminders. These messages have no connection to event registration. This gives you the opportunity to announce and remind people about events for which they do not necessarily have to register.

Reminders you set up on this tab are sent to everyone on the event distribution list. These messages do not include Registration buttons.

Tip You can include the equivalent of registration buttons in general announcements and reminders by providing direct links to event action/registration pages. Learn more.
To help you see how you might use one or both of the reminder options, three event descriptions follow.
Event Registration tab option only: An event for which you invite targeted audience members to register; no open registration
Set up an event distribution list with the invitees' email addresses.
Send invitations to the distribution list.
After five days, follow up with the invitees who have not responded by sending an Event Registration tab reminder.
Three days before the event, remind all invitees who have registered about the event by sending a custom message from the Event Registration tab.
Event Email tab option only An event aimed at a target audience for which no registration is required
Set up an event distribution list with the target audience members' email addresses.
To inform the audience about the event, send an Event Email tab announcement to the distribution list.
To encourage attendance, schedule two Event Email tab reminders that are sent automatically to the distribution list three days before and one day before the event.
Both options An event for which anyone can register using open registration; a target audience whose attendance you want to encourage.
Set up an event distribution list with the target audience members' email addresses.
To inform the target audience and encourage registration, send an Event Email tab announcement to the distribution list that includes direct links to the event actions/registration page.
To remind the target audience that the registration deadline is approaching, send an Event Email tab reminder to the distribution list five days before the event that includes a direct link to the event actions/registration page.
Three days before the event, thank selected high-profile registrants for registering provide them with additional event information by sending them a custom message from the Event Registration tab.
---
Why am I getting a Web Link [email] doesn't look like a web link [email address] error message?
Sometimes after you type or paste a URL or email address into a Web link or email field in the Add/Edit Event or other form, you see an error message that looks similar to this: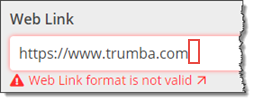 If the URL or email address looks perfectly valid and you still see the error message, the problem is almost always an extra space at the end.
Click in far right of the Web link or email field, and then press Backspace. Click outside the field. The error disappears.
---
What's the difference between repeating, multi-day, and ongoing events?
One person's repeating event is another person's ongoing event. If a multi-day event takes place over the course of several days, doesn't it repeat? Isn't it ongoing?
These terms for describing event types are fuzzy at best and they can mean different things to different people.
When it comes to creating events that work the way you expect them to, however, it doesn't matter what those event type terms mean to you personally. What does matter is for you to understand how Trumba defines repeating, multi-day, and ongoing. That's what you learn here.
Repeating events
Repeating events are events, such as classes, meetings, and lap swimming hours, that occur a limited number of times according to a repeating pattern.

Note that repeating patterns don't have to be regular and predictable. For example, events can repeat on different days each week or not every day, week, or month. They can even start and end more than once on the same day. Learn more.
Multi-day events
Multi-day events are events, such as conferences and workshops, that take place over the course of a few days.

A multi-day event can have one start and end time, the same start and end time each day, or different start and end times each day. Learn more.
Ongoing events
Ongoing events are events, such as art exhibits or final examination periods, that take place over a (sometimes extended) period of time.

Typically, an ongoing event's start time isn't what matters. For example, an art exhibit takes place in a museum that has standard opening and closing times for different days of the week. During the final exam period, students have several exams at different times. What does matter is the time period during which you have the opportunity to attend. Learn more about ongoing event setup.
---
Can I use non-English languages in my events and fields?
Support for UTF-8 character encoding is built in to Trumba Connect. In all of the fields where you provide text, you can type non-English characters, including double-byte characters typical of many Asian languages.
This means that you have a lot of leeway in tailoring your calendar visitors' experiences to reflect the languages they speak.
Note While you can use non-English characters in text you provide, there are many Trumba Connect user interface elements that will always be in English.
---
Can I attach files, such as PDFs and Microsoft® Office Word documents, to my events?
While you can't actually attach or upload files to, or embed files in, events, object (directory) records, or emails, you can link to files from all of those places. Visitors who click the links can download, open, or view the linked files.
The easiest way to link to files is to store the files in a Google Drive™ account, and then use the HTML editor to set up the links.
---
Should I make images the right size for my spuds before I upload them?
The answer depends upon what you intend to use the image for. If you're uploading an image for use:
In events or event detail views, the best approach from a quality perspective is to upload images at their original sizes.

When you set up your calendar views, event detail views, promotion spuds, calendar emails, and RSS and Atom feeds, you can specify the size of the images in each spud. When the spuds display, your original images are resized dynamically to reflect the settings.

In event and object Notes and other multi-line text fields, size the image appropriately before you upload.
As a custom navigation or registration button or event action icon, size the image appropriately before you upload.

If an image you upload for use as a button or icon is wider or taller than 55 pixels, Trumba scales the image to approximately those dimensions.
Note There is a limit to the size of images you can upload. That limit is 1 megapixel, which is equivalent to an image with a width and height of 1000x1000 pixels.
---
Once I've uploaded an image can I edit it?
Yes. In the Update Image window, you can open a third party image editor called PicMonkey.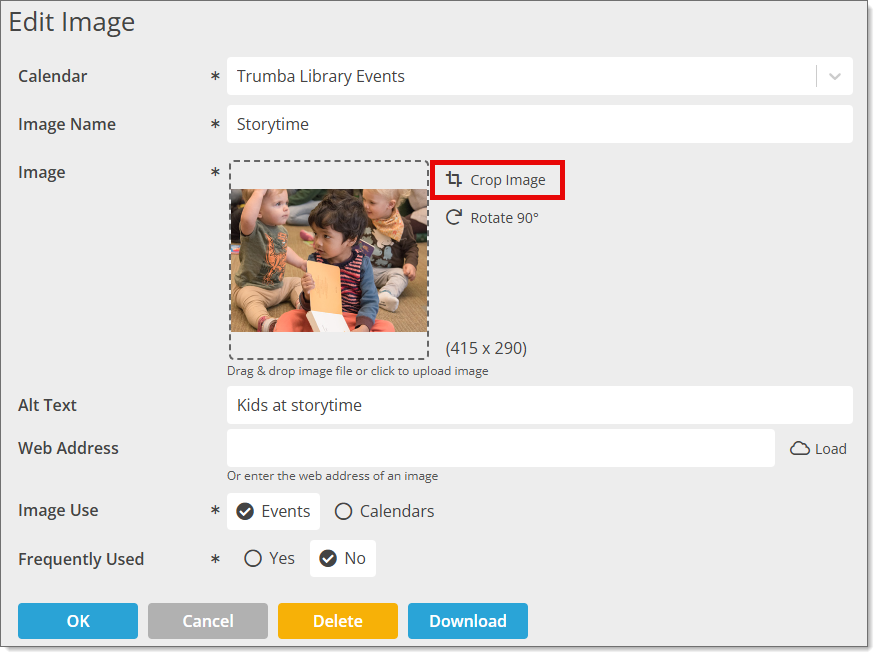 Using PicMonkey, you can resize, crop, and rotate images as well as change settings for colors, exposure, and more. Get help using PicMonkey.
---
I made changes to events and/or spuds. Why don't I see the changes on my website?
If you make and save changes to events and/or spuds and you see those changes when you preview in Trumba Connect, the changes will appear on your live site. You don't have to re-embed the spud code.
If you're not seeing the changes on your live site, try this:
Wait ten or so minutes (sometimes a little longer if you're testing spuds on a staging site) and refresh the webpage.

Be patient. There is a short delay between when you save changes in Trumba Connect and when they go live.

To manually refresh the page, you can:

Click the previous and next page navigation buttons.

Change views using the View Chooser.
Click a different date or month using the Date Finder.

Switch to a different month using the Month List.

If refreshing doesn't work, clear your browser history (sometimes called the cache) or try viewing the changes using a different browser.

Spuds sometimes get cached. That is, a version of the webpage containing the spuds gets stored on your local computer so the browser can open it more quickly than it could by returning to the original webpage.

By clearing the cache, you get rid of the outdated versions of the pages that contain your spuds.
---
How do I reorder calendar views in the View Chooser?
The order in which calendar views appear in the View Chooser control spud is determined by the order in which the views are listed on the Calendar Spuds tab in the Publishing Control Panel.
To change the order of the views:
In the Publishing Control Panel, click the Calendar Spuds tab. Under Available Calendar Views, find the view you want to move. Click the up or down arrow until the view is in the order you want.
---
How do I make my calendar look good on mobile devices?
Whether you've done nothing to make your website mobile friendly, fully implemented a mobile-responsive site, or created a separate site for mobile users, you can optimize your Trumba calendars for mobile.
For each calendar you publish, the Calendar Spuds tab in the Publishing Control Panel automatically includes a Mobile Table spud. The Mobile Table's calendar and event detail views are designed to reflect best practices from existing mobile-optimized Trumba calendars.
Mobile Table view is similar to the Classic Table main calendar view except that the mobile view's default settings focus on keeping the calendar width small. For example, by default, Mobile Table view shows only each event's start time, start date, and description, hides some event and calendar actions, and uses the small versions of navigation buttons. Just as with other calendar views, you can customize the mobile view's default settings to meet your specific needs.
If you have a separate mobile website, you can embed the Mobile Table spud into a page on that site. Otherwise, you can set the auto detect mobile option for your main calendar spud. With that option set, the device viewers are using automatically determines which view they see.
Filter spuds also automatically detect the device on which they're being viewed. Multi-select filters automatically convert to space-saving single-select versions on mobile phones and tablets.
---
Can I present my events as digital signage?
You can promote your current day's or week's events in your lobby or other high-traffic location by customizing promotion spuds to create effective digital signage displays.
To provide event-driven digital signage, all you need is a computer monitor or other device that displays HTML-formatted content and a promotion spud customized to make event information visible at a reasonable distance.
Tip If you have a digital signage system that does not display HTML-formatted content, you can generate a display from one of the data feeds that Trumba automatically generates for every calendar you publish. To provide a developer with the feed URL, follow the instructions described in Publish your events in a mobile app.
---
Can I use custom fonts in my spuds?
Yes. You can use custom fonts by linking to a font family provided by a web-based font service, such as Adobe® Typekit, Adobe Edge Web Fonts, and Google Fonts.
To set up custom fonts for a publication, paste the font tag you copy from the font service into a custom font script field on the Trumba Edit Global Settings page, and then add the font-family name to the appropriate font fields.
For specific details, see Spud style settings.
---
How do I organize calendar events by start time?
If your organization typically offers lots of events each day, you may want to organize the events by start time. You can control the format of the start time header to match the time formats used in your events.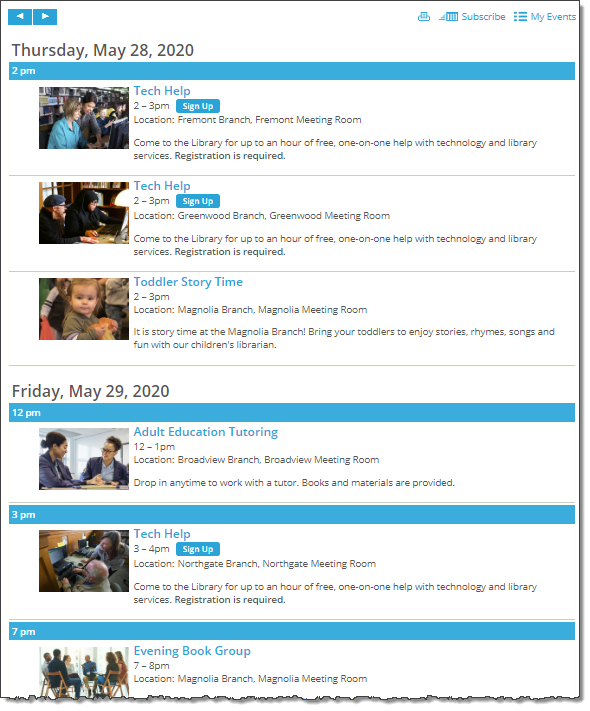 Tip To organize events by start time and control the start time format, you must be using one of the following calendar views: List, Compact List, Labeled List - Date, Labeled List - Description, Detail List - Date, Detail List - Description, Photo Events.
The following procedure assumes you already published your calendar and selected a list-type calendar view.
To group events by start time and set the start time format
In the Publishing Control Panel, on the Calendar Spuds tab, find the calendar view you want to modify. Click Edit Settings & Styles.
On the Edit Settings... page, on the Settings or General Settings tab, in the Grouping section, for Group by, select the primary category into which you want to group events.

For example, if you have lots of events per day, you might want to group by Day.

For Subgroup by, select Start time.

Tip When you group events by start time, ongoing and all day events have start times of 12 am. You can hide ongoing events by clearing Include events that started in the past in the Grouping section of the settings form.

In the Group Header Format section, select the date, day of week, and time formats you want to use.

Typically, you'll choose formats that match the date and time formats you use in your events.

At the bottom of the form, click Preview to make sure the settings work the way you want.
When you're satisfied with the results, click OK.
For more about paging and grouping events in calendar views, see Mix-ins, paging, and grouping.
---
In spuds, I'm seeing miles as the unit of measure. How do I change that to kilometers?
To set the unit of measure (miles versus kilometers):
In the editing environment, make the publication active for which you want to set the unit of measure. Click Publish.
In the Publishing Control Panel, on the Publish Settings tab, click Edit Publish Settings.
In the Publish Settings section of the form, select the unit of measure you want to use.

Click OK.
---
Some people on my distribution list are not receiving my calendar or event emails. Why?
The first thing to do is confirm that you have the people's email addresses entered correctly in your distribution list(s).
If the email addresses are correct, it's likely that the recipients' Internet Service Providers are treating Trumba email messages as spam.
You can provide recipients with information about how to get Trumba added to the ISPs' whitelists.
---
In my distribution list, I see red email addresses with two exclamation points. Why?
A red email address with two exclamation points is an address to which Trumba tried to deliver email and failed.
This could mean the address is invalid or that email from Trumba is being treated as spam.
If you know that a flagged email address is valid, you can provide the address owner with information about how to get their Internet Service Provider to stop treating Trumba email messages as spam. And, you can contact Support to get the red flag removed from the valid addresses.
---
In my distribution list, I see red x's beside email addresses. Why?
A red x beside an email address indicates that the email address owner opted out of receiving email messages sent from the current calendar or from Trumba in general.
---
Some events appear twice in my calendar emails. How do I stop that from happening?
If you offer events that span midnight, you have to set your calendar's day display times to reflect that span. Otherwise, events that span midnight will show up in calendar emails both on the day they start and on the day they end.
To set your calendar's day display times
In the editing environment, click the calendar's name to make it active. Click Settings above the calendar.
In the Calendar Settings form, in the Display Options section, set Day display ends at a time that is past midnight.

Click OK.
After you change the day display settings, send yourself a one-time calendar email to confirm that events that span midnight appear in the emails only on the day they start.
---
Why are future events not showing up in calendar feeds?
By default, a calendar's RSS, Atom (XML), and Icalendar (ICS) feeds show five weeks of event information starting from the current week. If your future events are more than five weeks away, they won't show up in the feeds.
You can change the default setting by changing the start and end dates for events that you want your feeds to include.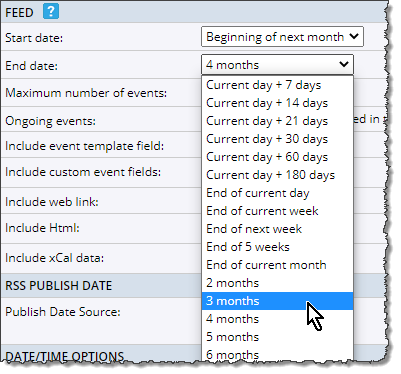 To change feed settings, in the Publishing Control Panel, click the Feeds tab. For the feed type you want to customize, click Edit Settings & Styles.
---
How do I add events to my Facebook business page?
Using Add to My Calendar, you can add events to your personal Facebook Events page. You can't use this approach to add events directly to a Facebook business page.
However, you can use the RSS or Atom (XML) feed, which is generated when you publish your calendar, and a third party application, such as RSS Graffiti, dlvr.it, and Twitterfeed, to automatically post events to your Facebook business page. You have control over the date range and number of events that calendar feeds include.
---
Can I provide direct links to event actions/registration pages?
You can encourage a targeted audience to register for and/or attend an event by providing a direct link to the event's Event Actions page.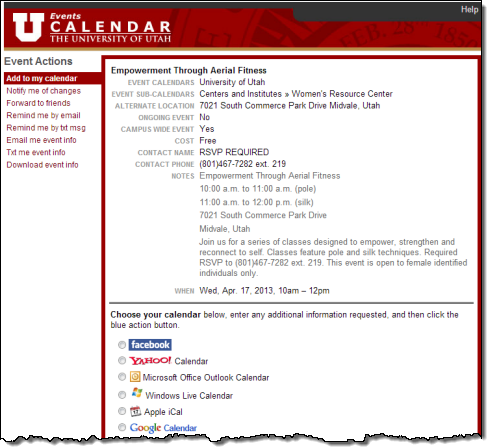 For any existing event on a published calendar, you can find an event actions link by opening the event in the editing environment and scrolling to the bottom of the edit event form.

Tip Be sure to test the event actions link. The URL is based on the current publication selected in the editing environment. That publication's settings determine the appearance of and the fields and actions included in the event actions page. If the page doesn't look the way you expect, you probably need to switch the current publication.
I'd like detailed steps for finding and copying the event actions URL.
---
Can I provide direct links to event detail views?
As the followng image indicates, you can provide direct links to event detail views in two ways: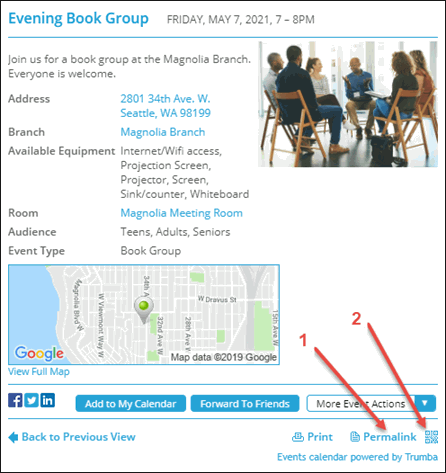 Copying the Permalink.

When you click Permalink, the event detail URL appears in the browser address bar. Copy this URL and paste it into a webpage or email message

The link you paste into a webpage will look something like this:

<a href="http://www.spl.org/calendar-of-events?trumbaEmbed=view%3Devent%26eventid%3D103730535">Don't miss this event!</a>

Downloading a QR code image file for use online or in print materials.
Tip Event detail links remain valid until you delete the event from or unpublish your calendar.
Do other views have permalinks?
Can I create my own URLs to filtered views, search results, and more?
---
When visitors add my events to Google calendars, the notes get truncated. How can I prevent that?
Notes get truncated because of a limit that Google™ places on the overall size of URLs used to add events to calendars. A URLs size is determined by all of its parts, including the domain, page, field names, field content, and more. If a particular URL exceeds the size limit, the Notes field content is what gets truncated.
Testing has shown that, if you keep the combined size of an event's fields to about 500 characters, all of the content you add in Trumba should show up in the Google Calendar event.
Tip If an added event includes custom fields, in Google Calendar, this custom information is added at the top of the Notes field. This means that Trumba Notes field content will be truncated before custom field content.
---
What can Publisher account holders do that Editor account holders can't?
Action
Publisher
Editor
Add, edit, and delete events
Yes
Yes
Mark events as private
Yes

Publishers can mark events as private only on calendars they own. Learn more.

No
Approve submitted events
Yes
Yes
Set up event registration and manage attendees
Yes
Yes
Send event emails
Yes
Yes
Manage address book emails and groups
Yes
Yes
Create calendars
Yes
No

By default, editors cannot create calendars in their accounts. Learn more.

Tip Editors with accounts created before April 10, 2013 can create calendars in their accounts. To disable calendar creation in these accounts, contact Trumba Support.

Share calendars
Yes
No
Publish calendars
Yes
No
Customize published calendar settings, calendar views, and control and promotion spuds
Yes
No
Define custom fields, event templates, and custom objects
Yes
No

Tip Editors with "Add, delete, and change content" permission for a folder can edit custom object records.

Create custom registration forms
Yes
No
Set up and customize calendar emails
Yes
No
Customize event emails
Yes
No
Monitor calendar activity in the Publisher Dashboard
Yes
No
View and manage account, billing, and performance data
Yes

Only Publisher accounts with Primary and/or Administrator status

No
---
---